Saturday, Mar 25, 2017 @ 9:30am – Colony High School, Ontario, CA: Ontario Teen Book Fest 2017.
SCHEDULE
| | |
| --- | --- |
| 9:00 AM | Doors open to the public |
| 9:30 AM – 10:00 AM | Welcome & Author Introductions |
| 10:00 AM – 11:00 AM | Keynote Speakers |
| 11:15 AM – 12:15 AM | Morning Breakout Sessions |
| 12:15 PM – 1:00 PM | Lunch |
| 1:00 PM – 2:00 PM | Teen Book Fest Speed Dating |
| 2:15 PM – 3:15 PM | Afternoon Breakout Sessions |
| 3:15 PM – 5:00 PM | All Author Signing |
ABOUT THE BOOKS
I'M NOT YOUR MANIC PIXIE DREAM GIRL
by Gretchen McNeil
Beatrice Maria Estrella Giovannini has life all figured out. She's starting senior year at the top of her class, she's a shoo-in for a scholarship to M.I.T., and she's got a new boyfriend she's crazy about. The only problem: All through high school Bea and her best friends Spencer and Gabe have been the targets of horrific bullying.

So Bea uses her math skills to come up with The Formula, a 100% mathematically-guaranteed path to social happiness in high school. Now Gabe is on his way to becoming Student Body President, and Spencer is finally getting his art noticed. But when her boyfriend dumps her for Toile, the quirky new girl at school, Bea realizes it's time to use The Formula for herself. She'll be reinvented as the eccentric and lovable Trixie—a quintessential manic pixie dream girl—in order to win her boyfriend back and beat new-girl Toile at her own game.

Unfortunately, being a manic pixie dream girl isn't all it's cracked up to be, and "Trixie" is causing unexpected consequences for her friends. As The Formula begins to break down, can Bea find a way to reclaim her true identity, and fix everything she's messed up? Or will the casualties of her manic pixie experiment go far deeper than she could possibly imagine?
A WEEK OF MONDAYS
by Jessica Brody
When I made the wish, I just wanted a do-over. Another chance to make things right. I never, in a million years, thought it might actually come true…

Sixteen-year-old Ellison Sparks is having a serious case of the Mondays. She gets a ticket for running a red light, she manages to take the world's worst school picture, she bombs softball try-outs and her class election speech (note to self: never trust a cheerleader when she swears there are no nuts in her bake-sale banana bread), and to top it all off, Tristan, her gorgeous rocker boyfriend suddenly dumps her. For no good reason!

As far as Mondays go, it doesn't get much worse than this. And Ellie is positive that if she could just do it all over again, she would get it right. So when she wakes up the next morning to find she's reliving the exact same day, she knows what she has to do: stop her boyfriend from breaking up with her. But it seems no matter how many do-overs she gets or how hard Ellie tries to repair her relationship, Tristan always seems bent set on ending it. Will Ellie ever figure out how to fix this broken day? Or will she be stuck in this nightmare of a Monday forever?

From the author 52 Reasons to Hate My Father and The Unremembered trilogy comes a hilarious and heartwarming story about second (and third and fourth and fifth) chances. Because sometimes it takes a whole week of Mondays to figure out what you really want.

READ AN EXCERPT»   VISIT JESSICA'S WEBSITE»
WHAT GIRLS ARE MADE OF
by Elana K. Arnold
This is not a story of sugar and spice and everything nice.

When Nina Faye was fourteen, her mother told her there was no such thing as unconditional love. Nina believed her. Now Nina is sixteen. And she'll do anything for the boy she loves, just to prove she's worthy of him. But when he breaks up with her, Nina is lost. What is she if not a girlfriend? What is she made of?

Broken-hearted, Nina tries to figure out what the conditions of love are. She's been volunteering at a high-kill animal shelter where she realizes that for dogs waiting to be adopted, love comes only to those with youth, symmetry, and quietness. She also ruminates on the strange, dark time her mother took her to Italy to see statues of saints who endured unspeakable torture because of their unquestioning devotion to the divine. Is this what love is?
ILLUSION
by Martina Boone
Barrie must rescue her beloved and her family from evil spirits in the masterful conclusion to the Heirs of Watson Island trilogy.

Caged by secrets all around her and haunted by mistakes that have estranged her from Eight Beaufort, Barrie Watson is desperate to break the curse that puts her family in danger—without breaking the beautiful magic that protects Watson's Landing. To do that, she must heal the rifts that have split the families of the island apart for three hundred years, unravel the mystery of the Fire Carrier and the spirits he guards, and take control of forces so deadly and awe-inspiring they threaten to overwhelm her.

With the spirits that cursed Watson Island centuries ago awake and more dangerous than ever, she finds an unlikely ally in the haunting and enigmatic Obadiah, whose motivations and power she still can't read—or trust. His help comes at a price, however, plunging Barrie into a deadly maze of magic and wonder, mystery and intrigue that leads through history to places she never imagined she could go.
TELL ME THREE THINGS
by Julie Buxbaum
Everything about Jessie is wrong. At least, that's what it feels like during her first week of junior year at her new ultra-intimidating prep school in Los Angeles. Just when she's thinking about hightailing it back to Chicago, she gets an email from a person calling themselves Somebody/Nobody (SN for short), offering to help her navigate the wilds of Wood Valley High School. Is it an elaborate hoax? Or can she rely on SN for some much-needed help?

It's been barely two years since her mother's death, and because her father eloped with a woman he met online, Jessie has been forced to move across the country to live with her stepmonster and her pretentious teenage son.

In a leap of faith—or an act of complete desperation—Jessie begins to rely on SN, and SN quickly becomes her lifeline and closest ally. Jessie can't help wanting to meet SN in person. But are some mysteries better left unsolved?

Julie Buxbaum mixes comedy and tragedy, love and loss, pain and elation, in her debut YA novel filled with characters who will come to feel like friends.
THIRTEEN RISING
by Romina Garber
Romina Russell's epic sci-fi fantasy series reaches its breathtaking conclusion with this fourth and final novel.

The master has been unmasked. Rho's world has been turned upside down. With her loved ones in peril and all the stars set against her, can the young Guardian from House Cancer muster the strength to keep fighting? Or has she finally found her match in a master whose ambition to rule knows no limits?
THE BEST POSSIBLE ANSWER
by E. Katherine Kottaras
AP Exams – check
SAT test – check
College Application – check
Date the wrong guy and ruin everything you've spent your whole life working for– check
Ultra-high-achiever Viviana Rabinovich-Lowe has always had a plan—and no room to be anything less than perfect. But her quest for perfection comes to a screeching halt when her boyfriend leaks racy pictures of her to the entire school. Making matters worse, her parents might be getting divorced and now her perfect family is falling apart. For the first time, Viviana feels like a complete and utter failure.
Then she gets a job working at the community pool, where she meets a new group of friends who know nothing about her past. That includes Evan, a gorgeous (and really nice!) guy who makes her want to do something she never thought she'd do again: trust. For the first time in her life, Viviana realizes she can finally be whoever she wants. But who is that? While she tries to figure it out, she learns something they never covered in her AP courses: that it's okay to be less than perfect, because it's our imperfections that make us who we are.

VISIT E'S WEBSITE»
GOING GEEK
by Charlotte Huang
A girl returns to her exclusive east coast boarding school and finds that she's no longer one of the cool kids on campus in this second novel from the author of For the Record.

It wasn't supposed to be this way. Skylar Hoffman's senior year at her preppy East Coast boarding school should have been perfect:

amazing boyfriend
the coolest friends
the most desirable dorm

But it's far from it. To her dismay, Skylar's not going to rule senior year because she's stuck in Abbot House, a tiny dorm known for, well, nothing. Living with a group of strangers everyone thinks is lame is bad enough. Worse is that Skylar wasn't exactly truthful about how she spent summer break in Los Angeles—and her little white lie is causing her once rock-solid romance to crumble fast. And when it turns out that Skylar's best friend is the one responsible for having her booted from Lincoln? It's an all-out war.

Stepping out of her comfort zone never felt so scary—or necessary. But everything is different now. Including, maybe, Skylar herself . . .
IN REAL LIFE
by Jessica Love
Hannah Cho and Nick Cooper have been best friends since 8th grade. They talk for hours on the phone, regularly shower each other with presents, and know everything there is to know about one another.

There's just one problem: Hannah and Nick have never actually met.

Hannah has spent her entire life doing what she's supposed to, but when her senior year spring break plans get ruined by a rule-breaker, she decides to break a rule or two herself. She impulsively decides to road trip to Las Vegas, her older sister and BFF in tow, to surprise Nick and finally declare her more-than-friend feelings for him.

Hannah's surprise romantic gesture backfires when she gets to Vegas and finds out that Nick has been keeping some major secrets. Hannah knows the real Nick can't be that different from the online Nick she knows and loves, but now she only has night in Sin City to figure out what her feelings for Nick really are, all while discovering how life can change when you break the rules every now and then.

READ AN EXCERPT»   VISIT JESSICA'S WEBSITE»
WANT
by Cindy Pon
Jason Zhou survives in a divided society where the elite use their wealth to buy longer lives. The rich wear special suits, protecting them from the pollution and viruses that plague the city, while those without suffer illness and early deaths. Frustrated by his city's corruption and still grieving the loss of his mother who died as a result of it, Zhou is determined to change things, no matter the cost.

With the help of his friends, Zhou infiltrates the lives of the wealthy in hopes of destroying the international Jin Corporation from within. Jin Corp not only manufactures the special suits the rich rely on, but they may also be manufacturing the pollution that makes them necessary.

Yet the deeper Zhou delves into this new world of excess and wealth, the more muddled his plans become. And against his better judgment, Zhou finds himself falling for Daiyu, the daughter of Jin Corp's CEO. Can Zhou save his city without compromising who he is, or destroying his own heart?
MY KIND OF CRAZY
by Robin Reul
Despite the best of intentions, seventeen-year old, wisecracking Hank Kirby can't quite seem to catch a break. It's not that he means to screw things up all the time, it just happens. A lot. Case in point: his attempt to ask out the girl he likes literally goes up in flames when he spells "Prom" in sparklers on her lawn…and nearly burns down her house.

As if that wasn't bad enough, Peyton Breedlove, a brooding loner and budding pyromaniac, witnesses the whole thing. Much to Hank's dismay, Peyton takes an interest in him – and his "work." The two are thrust into an unusual friendship, but their boundaries are tested when Hank learns that Peyton is hiding some dark secrets, secrets that may change everything he thought he knew about Peyton.

READ AN EXCERPT»   VISIT ROBIN'S WEBSITE»
THE SANCTUARY
by Sara E. Santana
Zoey Valentine is finally safe. Tucked away miles underground in the fortified community of the Sanctuary.

But the Sanctuary is far from what she imagined.
Zoey can't help but feel trapped.
Sekhmet, the evil corporation behind the Awakened, is still out there and
now, citizens of the Sanctuary are disappearing.
It isn't until the bodies of the missing turn up mutilated, each one tagged with a note, a warning, signed by Razi Cylon.

Problem is, Razi should be dead.
Sekhmet has existed for far too long, and Zoey has had enough.
HOW TO DISAPPEAR
by Ann Stampler
Nicolette Holland is the girl everyone likes. Up for adventure. Loyal to a fault. And she's pretty sure she can get away with anything…until a young woman is brutally murdered in the woods near Nicolette's house. Which is why she has to disappear.

Jack Manx has always been the stand-up guy with the killer last name. But straight A's and athletic trophies can't make people forget that his father was a hit man and his brother is doing time for armed assault. Just when Jack is about to graduate from his Las Vegas high school and head East for college, his brother pulls him into the family business with inescapable instructions: Find this ruthless Nicolette Holland and get rid of her. Or else Jack and everyone he loves will pay the price.

As Nicolette and Jack race across the country trying to outsmart each other, tensions — and attractions — run high. Told in alternating voices, this tightly plotted mystery and tense love story challenges out assumptions about right and wrong, guilt and innocence, truth and lies.

READ AN EXCERPT» VISIT ANN'S WEBSITE»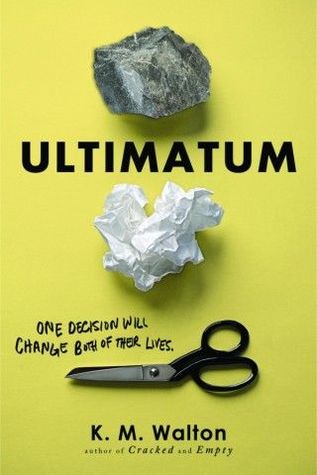 ULTIMATUM
by K.M. Walton
A gripping, emotional story of two brothers who must decide what's more important: family or their differences.

Oscar is misunderstood. Ever since his mother died, he's been disrespected and bullied by his family, and he seeks refuge in his art. Vance is a popular athlete and wishes his brother would just loosen up and be cool. It was hard enough to deal with their mother's death without Oscar getting all emotional. Vance just wants to throw himself into partying, to live.

But when their father's alcoholism sends him into liver failure, the two boys must come face-to-face with their demons-and each other-if they are going to survive an uncertain future.
SIREN'S SONG
by Mary Weber
"The realization hits: We're not going to win. It's why I couldn't defeat Draewulf in Bron—because this power was never mine anyway. I drop my arms and let the energy die off. And turn around to Face Eogan."

After a fierce battle with Draewulf, Nym barely escaped with her life. Now, fleeing the scorched landscape of Tulla, her storm-summoning abilities are returning; only . . . the dark power is still inside her.

Broken and bloodied, Nym needs time to recover, but when the full scope of the shapeshifter's horrific plot is revealed, the strong-willed Elemental must race across the Hidden Lands and warn the other kingdoms before Draewulf 's final attack.

From the crystalline palaces of Cashlin to the legendary Valley of Origin, Nym scrambles to gather an army. But even if she can, will she be able to uncover the secret to defeating Draewulf that has eluded her people for generations? With a legion of monsters approaching, and the Hidden Lands standing on the brink of destruction, the stage is set for a battle that will decide the fate of the world.

This time, will the Siren's Song have the power to save it?

READ AN EXCERPT» VISIT MARY'S WEBSITE»
Related